Last Friday, CNET Networks had its third annual Wig Bowl, a tournament held at San Francisco's Presidio Bowl. As it's close to Halloween, everyone was encouraged to get coiffed up in their best fake curls while knocking down pins. After getting divvied up by teams, the CNET gang proceeded to do what people normally do at bowling alleys: eat greasy food (I definitely recommend the curly fries), drink lots of beer, and pretend to bowl. We won't discuss how well I did (though I was definitely sore the next morning), but Jaxiecracks seemed to do rather awesomely.
But this post is about danmod.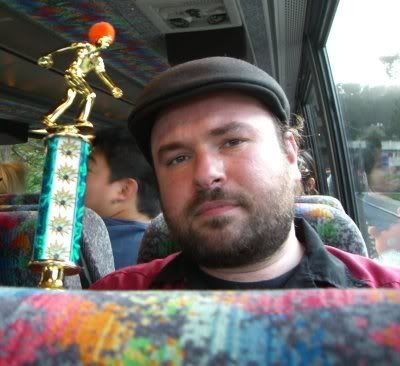 Yep, he helped bring the trophy home for us at TV.com. Hmmm, maybe it was because he didn't wear a wig and could concentrate on his game without dealing with an itchy scalp of fake hair?
Congrats danmod! He's definitely on a winning streak, garnering not only the Wig Bowl top prize, but also one of the raffle prizes during our recent Oktoberfest celebration. Does anyone else think he should buy a few lottery tickets?