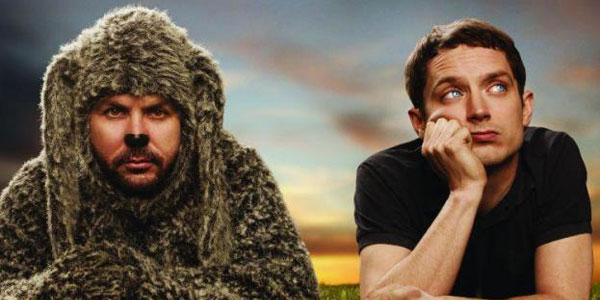 Just across the street from all the insane madness of the San Diego Convention Center, in the only-slightly-crazy madness of the Hilton Indigo Bayfront Hotel, FX was foolish enough to let me near the cast of its psychological thriller-slash-comedy Wilfred. A gaggle of journalists gathered to participate in a roundtable discussion with Elijah Wood, Jason Gann, Fiona Gubelmann, Dorian Brown, David Zuckerman, and Randall Einhorn. This is an abbreviated version of what happened.
Einhorn, who's directed every single episode of the series thus far, gave us the lowdown on what guest-stars to expect this season. Dwight Yoakam, who played the mysterious Bruce last season, will be back. If you recall, he was able to see Wilfred the way Ryan did and helped set up an elaborate hoax on Ryan to test Ryan's will. (If you didn't remember that, it's probably because you didn't see that episode and now I just spoiled it for you. Sorry!) Mary Steenburgen, who plays Ryan's mother, will also return. Einhorn also talked about Robin Williams' appearance in the special preview episode "Progress," saying that Williams was simply a fan of the show and he wanted to do it.
But what about that episode? Why was it called a "special preview" and not a season premiere? I asked David Zuckerman, the showrunner and the man responsible for importing Wilfred to America because it's been killing me.
"It was designed to be the season premiere," Zuckerman replied. "I think it's essential viewing in terms of understanding the arc and storyline. FX wanted to do something special to promote the series. Some shows like Glee and New Girl had great results in [putting episodes online in advance]. So [FX] thought ["Progress"] would be a good episode to do that with. They aired it a week before what ended up being called our season premiere, which was an episode that wasn't really designed to be our season premiere. So if you missed the special preview episode, I think you missed some very important story elements. You also missed some very important clues in terms of mythology and secrets this year. So I encourage everyone to watch it."
I wanted a bit more info (I was pretending to be a real journalist today), so I was kind of a jerk and pressed Zuckerman a bit, asking if it was just an issue of nomenclature. [Backstory: A few weeks ago, we were asked to re-title a story because labeled "Progress" the Season 2 premiere, when FX wanted it to be called a "special preview."]
"If you put it online, then it wasn't really our season premiere," he said. "It aired before our season. I'm sure they had some reasons for it. But they were very pleased with the results of the online [viewing]. The nice thing, too, is that anyone who had a DVR [with a season pass], it recorded it. So the fans were definitely finding it. I was really proud of it, I wanted as many people to see it as possible." He's right, that episode was awesome.
As you know, Season 2 includes Ryan working at a new company, and last week's episode was almost exclusively spent in that new office environment, a big departure for the series. I wondered aloud how the series would split up Ryan's work life and his home life with Wilfred and Jenna, and Zuckerman said it does not last all season. Then, with a chuckle, he said it does not end well.
"We have a pretty pivotal episode right in the middle of the season where things change drastically with Ryan," he said. "In terms of his relationship with Jenna, Jenna is engaged to Drew and we'll see that arc play out this season and it will be resolved this season. That's all I want to say. The second half of the season gets very weird, and there's a very big twist at the episode. There are a couple of twists at the end."
The delightful Fiona Gubelmann (what? I can say she's "delightful" because she is!) was up next, and she answered my question of why her character Jenna is such a horrible dog owner before I even got a chance to ask it.
"Honestly, if I was friends with Jenna in real life, I would say, 'What are you doing!? You're leaving your dog for 15 hours a day! He's not spayed! You don't walk around with him on a leash, what are you doing?"
Later I asked if Jenna and Amanda (played by Allison Mack and Ryan's new potential squeeze) would meet, and she confirmed it without spilling any secrets, saying, "Things get very interesting when Jenna and Amanda meet. We have a really good episode coming up."
Dorian Brown, who plays Ryan's sister Kristen, was as excited to talk about the show as we were excited to ask questions about it. I asked her about the second half of this season, which had been previously teased by Elijah Wood as being a bit weird and a lot awesome.
"It is weird," she said. "Even the episode they're showing tonight [in the panel], it's weird dude, it's weird! ["Progress"] was kind of like Lost, it had kind of Lost-y vibes. [The second half] takes even more turns. It doesn't stick to that kind of weirdness, but it's Wilfred weirdness. It's hard to explain, like the show is hard to explain." And you know what? I totally knew what she meant.
After Jason Gann talked about the five different dog suits he wears, he waxed more poetic about his character. He said the American version of Wilfred brought out a real protective nature in Wilfred, in part due to Wood's performance, and there was more of a bodyguard vibe (as opposed to the darker tone of the original series and short film). But he does know Wilfred's actions could be questioned.
"For me it never comes into question that Wilfred has Ryan's best interests at heart," the Australian Gann, multiple buttons on his shirt popped open to reveal man fur and elicit swoons, said. "But every villain is the hero of his own story, so that's probably me kidding myself to make me think I'm a good guy."
Our time with Wood was pretty short and I didn't get a chance to fire off a Q, but I will say this: He was probably the most playful of the bunch and had fun goofing off with our microphones. He definitely kept us laughing the entire time. He's in awe of the show, and has been ever since he read the pilot script. The move to TV has been no problem for him, and having FX on board allowed the show the creative freedom he seeks. And in case you are wondering, he does dress a little bit like Ryan in real life.

Wilfred is currently in its second season, airing Thursday nights at 10pm on FX.

Psst! Check out our complete Comic-Con coverage for the latest news, photos, and more.