First of all, welcome the forum for Sarah Jessica Parker. If your not familiar with Sarah's work, Sarah was cast as the main character, Carrie Bradshaw on comedy "Sex and the City". She won several Emmys and a Golden Globe for the role. She starred in several films in 2006 including "The Family Stone".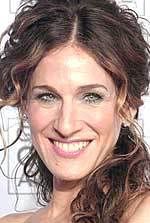 I'm not big on rules but I do ask that if you ever use this forum that you would:
a) Keep the language clean and tasteful.
b) Respect other users opinions.
c) Keep to the topic: Sarah Jessica Parker. However, I will allow you to discuss SJP related areas including her movies and TV shows she has starred in.
d) Do not post anything that would be highly offensive to the actress.
If these rules are not met, then I will be forced to moderate. Even after I've moderated and you still continue to ignore those 4 simple rules, I will be forced to report you to a staff member.
Thanks for your attention.