Name:Kenna Maley Tennix
Nickname:Ken 10
Age:12
Gender:Female
Side:Good
Race:Human/Werewolf/alien
Powers:Has the power of the igniotrix by her side.It has 30 and more forms but we'll stick with her top ten and their powers: 
Viro: Destroy electrical devices inside-out,electric shocks and blasts
Species:Electrusins
SharpShard:Reflects anything such as beams and objects,shard shooting,slicer shard
Species: Ditorian
BlackBullet:Fly at speeds 1,000,000 MPH, death Breath
Species:Lepicridirium
Microbe:Change sizes,Super smartness>_0
Species:Galvan
Retrostretch:Stretch farther than the eye can see,morph into many helpful things such as: Spring,ball,rope,etc...
Species:Elastik Stretchicons
Probe:Transform into anything or person
Species:Metamorphooze
Frostbite:Ice powers,wind powers,Ghost powers(like ghostfreak),and can withstand temperatures -1,000,000 C.
Species:Ectofreezerite
WilderHound: Dog-like abilities,supersenses,Superhuman powers,spike ball,spike shooting
Species:Velocimancer
Charcoal:Fire powers, withstand temp. up to 1,000,000 C.,Turn into charcoal encrusted shield
Species: Pyrocharren
Shade:Summon Shadows,blend in with surroundings,cause end of Earth
Species:Metamorphumbra
EarthWorm: Dig underground,Drill tail,rip through many objects and devices,Earth telekenisis
Species:Wormicann
Horseshoe:Generates good luck to itself and others,generates bad luck to enemies,like a living Boomerang
Species: probipilitons
Bloodthirsty:Fly,suck energy,blood,and substance for health and power,large biting fangs,super screeches
Species:Chiropterrann
Kung-Chan:Great martial arts skills,balance,chi,and focus
Species:Unknown 
Controlfreak:Hypnotize all who look at it
Species:Hypnoslugg
Personality: kind of a smart a$$,funny,intelligent,brave,a total tomboy!But her most used trait is sarchasm.She's mostly like ben in a way! 
Desription:She stands at the height of 5'6.Her Shirt is similar to ben and gwen's(the collar color goes to sleeves and down in a thick line like Ben's),the shirt is red on the collar and blue side to side of the collar's line,Short black hair similar to gwen's style with a tip of red,eyes are green,pants are cargo with the color of green,and igniotrix is on the same arm as Ben's.Taller than Gwen or Ben.Also wears a collar to stop her from becoming evil! 
Partner:A galvin named Sam(always with her and guiding her) 
history:Her whole family of 6 siblings were born orphans(Jen,Glen,Ren,Aaron,Jack,Kareen)But when one of the sibs makes the biggest mistake,the whole family have a huge fight.So they decide it would be best to break up.A year after, Ken,the youngest sibling,gets abducted.By aliens!But these aliens are possibly the best things to happen to her.Sam,her best friend was the leader of the group.He is the one to put the almighty igniotrix on her.Containing 30 alien forms and more on it,it is possibly the most powerful thing besides the omnitrix.But when the two figure out about Ben 10 and other Trixes *so be called*,they set a search to find them.When they do,they become partners with many trix holders and go out to stop evil,collect the trixes and save Earth!!After they play some video games...
Friends:
Eva Carterson
Zhen Anatasia-Yue Jutendou*Zhen 10*
IVG-105
Theodore Nosynnet*Ted 10*
Xen Steel*Xen 10*
Benjamin Tennyson*Ben 10*
Max Tennyson
Gwendolyn Tennyson
Lt. Steel
Kevin 11*They met when they were 9*
Samuel Jikito*Sam*
ALL 'TRIX HOLDERS
Newest Friends-Crow,Krevak,Boga
Cousins:
Devin 11
Lynn Tennix
Christeen 13

First Appearance:"Ken 10"
Quotes:
"WHAT?!I AM A GIRL!"
"Oh boy... what DON'T I have to do to save Earth."
"Why am I never appreciated?I mean I save the frickin' world 200 times a week.The least I should get is a coffee mug or somethin..." 
Pics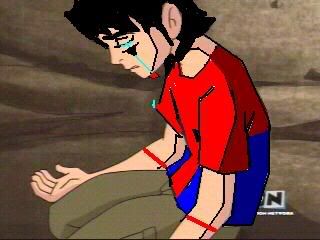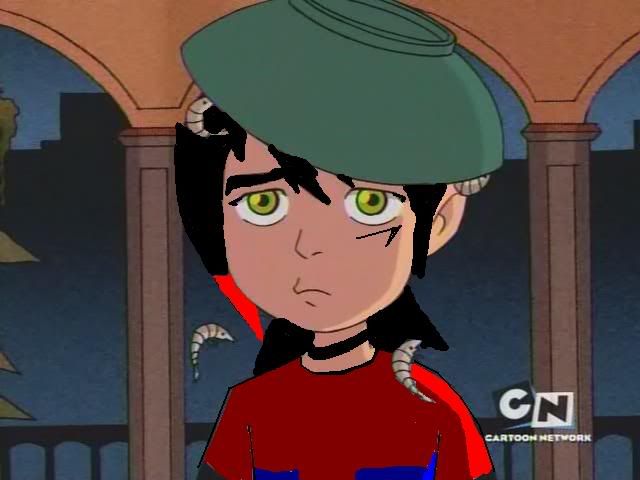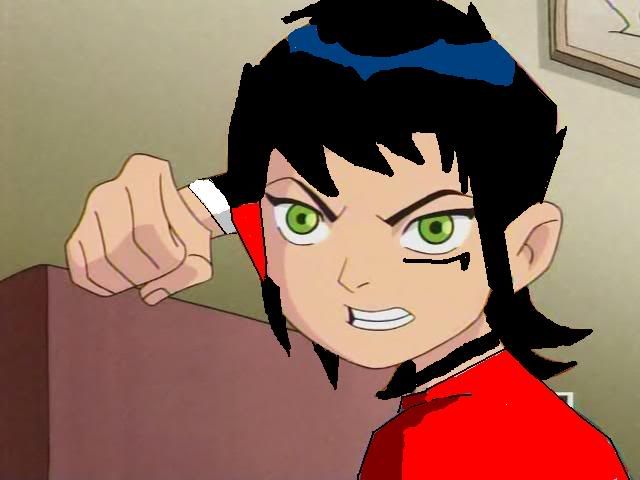 Edited on 09/01/2006 10:07pm
Edited 3 total times.