THEIR STORY STARTED 4 YEARS AGO,
AFTER FLIRTING FOR ALMOST 2 YEARS THEY FINALLY GOT TOGETHER.
THEY HAD THEIR UP AND DOWN MOMENTS BUT BECAUSE THEY LOVE EACH OTHER,
THEY GOT OVER IT, GOT MARRIED AND NOW HAVE A BEAUTIFUL DAUGHTER...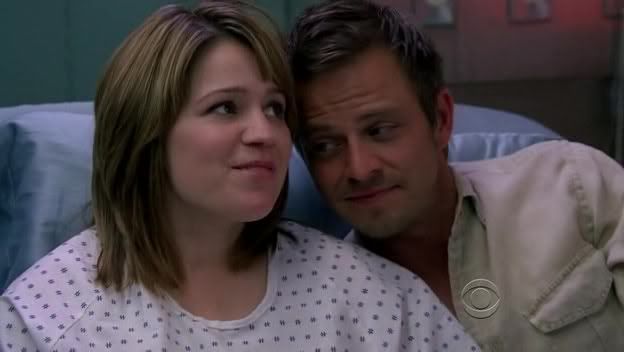 WELCOME TO THE 19TH M&Ms THREAD: THEY MAKE SENSE!!
Special thanks to Gwen for the images!
Members wrote:

1. Ashley (myeverything)
2. Sugah
3. Trace
4. Mountie
5. Rengin
6. Charlie
7. Squint85
8. Liz
9. Prettyinpink54
10. Akira
11. Heather (numb3rschick)
12. pinkcherries
13. SVUgirl69
14. Silverlaine
15. hotbunz09
16. RenLissa_Can
17. dalilone
18. messer_montana
19. Freckles7580
20. ncisrules
21. rynaa
22. Babs_Yoshiba
23. csigirl16
24. rhylee71
25. Melik (mistylife)
26. Amazingpotatoe
27. Rav
28. Pagman
29. Kitz1991
30. sfbalgurl
31. kmfc17
32. CandzOct
33. morenow951
34. foxdvdgh
35. Lauren (Cherish)
36. Jarfilledhead
37. Saphira2123
38. CSI_Fiona
39. WayWayne
40. unearthlyangel
41. marialisa18
42. city_girl_129
43. piratepixie
44. Serena
45. CSI_Freak
46. Shadow
47. Pet_Petra
48. i_lv_chocolate
49. charlicat83
50. winche
51. Macs_Girl01
52. Mandy
53. Suzpsycho
54. innocentshadow2
55. lolo_supertvfan
56. KayteeLern
57. kopi54
58. LoganLover
59. Mystik225
60. pop_star1988
61. dutch-girl
62. Petra (seashell_girl)
63. ny_in_love
64. Tenley
65. xboxdukex
66. NCISisLOVE
67. kewlz
68. iheartCSI
69. sweetlovexx
70. CSI_is_da_best (Lindsay!)
71. Katyana
72. nemosene
73. coolceruleanblu
74. verymraz
75. ninacsinylover
76. nell2001
77. csi_cse
78. babyrocker212
79. hewey
80. lilyfrog
81. Wentworth_luva
82. jasminekpk
83. racheldwyer
84. drama_freak_csi
85. riosa10
86. PixieLyssie
87. Chels518
88. VaveAma92
89. yoderbabi08
90. xhosa9conga
91. Vexus
92. csinyfan
93. ParkerDove
94. FolloDaButrflys
95. AgentAlias01
96. sandrav11
97. Claire
98. SkettySpoos
99. Jeni-france
100. DLRgirl213
101. boom-moo
102. saleblanc
103. csiroxmysox
104. Aries_06
105. MizzGMC23
106. ChelliyahMesser
107. csimic
108. julsief1991
109. robstar12
110. smurfgal8
111. caitlinnxo
112. last_star
113. CSI_Scully
114. laneangel
115. nyakattia
116. CSI_Tori
117. tonik2255
118. Gatormd
119. rheadayz
120. Csinyfreak93
121. SweetDreams
122. Siebeuh
123. Najida
124. lmugirl02
125. Hanna
126. Skylarsun
127. Freewilly1991
128. Rummicup
129. Saxa246
130. allyp182
131. justicerocks
132. Jemma07
133. renn
134. liaq100
135. D-Danni
136. xxshawnee
137. mickeyDs4
138. anita1992
139. Susan1302
140. lightstar411
141. Ladybritcomfan
142. Jordinajamaica
143. ewkatal
144. Summersky1
145. Allimacksteamy
146. Radonjicsandra
147. Carmeena
148. Emily_Rae
149. Silvara71
150. Ladybritcomfan
151. Chelliyah
152. Randomly_Keira
153. DLforever
154.Robosquid
155. countrymuzluvr1 AKA Michelle
156. Brinchen
157. KaitlynReynolds
158. Vonkie_1991
159. stuffy34
160. Em150
161. Mitsi1819
162. lizanator112890
163. Supercin721
164. xxMrsSparrowxx
165. Maverick13007
166. Sherry1407
167. madmush
168. ausgurl_12
169. gwenpiper24
170. Chiara_R
171. TaKeN_aO_910
172. groofbear
173. Procter_Fox_Fan
174. Kiwi2325
175. gcmest24
176. NeverTheSame91
177. femkevis
178. sweetiepie1019
179. bubbly_jayne_sj
180. Kim_sprite2009
181. Crazy101Chic
182. Wizadora97
183. Sidle_Love
184. DaisyBeetle
185. Kireal
186. Addicted411
187. NYCarbon
188. Mariekjj
189. elong6283
190. Kahlan14
191. patry_trusky
192. MLily
193. isanoot
194. Taniya_K
195. EmpireClover
196. Clfuller
197. Elfor_Rocket
198. DeanW8r
199. gotta_luv_bones
200. OSU_Buckeyes
201. HeatherGSRGirl
202. xcharmedkx
203. Arihya
204. mischoo
205. mmmmitz
206. NateR92
207. ApriilSmiilez
208. gab94bee
209. jennabby
210. febgrl24
211. foxy-csi
212. Numb3rsfan1
213. ginger-alert
214. tonyandzivafan
215. Peachums
216. Meancoconut
217. Bizbeth88
218. Pupsay
219. Snowdays
220. CaterinaValenti
221. dlobsessed
222. micopacman
223. Da_Tonks
224. stellaluvr14
225. WolfgalX
226. silvix
227. anna1888
228. purplepotato92
229. rusticangel
230. raven_613
231. FoxPhile
232. DantanaMM
233. DL-Flack
234. csinylover13
235. kwadd1985
236. CSINY_Forever


Those are all the rules that we live by:

Posting Guidelines wrote:
*This is the M&Ms thread. We are here to discuss Danny and Lindsay. Any D/L moments that occur in episodes are up for grabs. Anything related to D/L in general, actually. Please feel free to post pictures you've found and/or made and links to fics you've written and/or videos you've made. Or links to D/L related articles. If you make or find a video, you may post the link here.

*If you're posting something that isn't yours and you know who it belongs to, please mention that. Some of us steal...I mean ... borrow these pics and we'd like to give credit where credit is due.

*Any discussion of the episode in general (that is not related to D/L) should be done in the official episode discussion thread. If the discussion is D/L related, go to town. However, please refrain from having 'conversations' between only a few people. If you see this happening, move it to PM. This is to avoid the thread being 'flooded'.

*Going off-topic is okay, as long as we don't have pages and pages of OT stuff. Remember, this is a D/L thread. Also, there is an OT chat thread. If you notice that you're going seriously OT, please move the discussion there.

*No bashing of other ships. I know this is the M&Ms thread, but other ships have just as much a right to exist as ours and we will not insult anyone for not thinking the same way that we do. (Just be very careful how you talk about them.)

*No bashing of any other characters. It's okay to not like a character, but don't rant for three paragraphs about how much they suck. Someone here might actually like them.

*NO BASHING OF OTHER M&Ms MEMBERS. This is a friendly place, and we'd like to keep it that way.

*NO POSTING OF SPOILERS IN THIS THREAD. Spoilers go in the spoiler thread. Do not even discuss spoilers in here, out of respect for those members who are spoiler-free. This means referring to them as well. If you posted a spoiler in the spoiler thread, you can say that you did, but you cannot allude to whether it is good or bad. Please do not give any hints at all. All spoiler discussion goes in the spoiler thread.

*After a show has aired in every time zone in the United States, it is no longer considered a spoiler. Until then, though, you need to give warning. However, this does NOT apply to anything that was SUPPOSED to be in the episode and was not. Episodes are altered dozens of time before they are filmed, and it's entirely possible that whatever was 'missing' was moved, or not originally supposed to be in that episode anyway. Discussing these is STILL a spoiler, and should be moved to the spoiler thread.

*If at all possible, try not to double post. (Double posting, for those who don't know, is posting again immediately after your last post.) If you're the last person to post and you have something new to add, just edit your previous post. You can put EDIT: whatever at the bottom so we know something has been added. Accidental double-posting (i.e., the site is being retarded, and you end up submitting the same post twice) is okay, provided that you delete the second post. You can do that, you know. Sometimes the site just acts weird, and we understand that this can happen.

*There is a General Q&A thread. For any questions not related to Danny/Lindsay, please ask them there. That includes episode questions, questions about other characters or the show in general, questions about the site.

*Recaps shall not be posted in the thread. If there is no recap in the episode summary page, we will find one and post a link to it. Please don't ask us, "What happened?" We post the links to clips and screencaps and we try to post recaps in the episode summary. We do our best, just give us some time.

*Unless there are a lot of posts for you to read, please try and read all the posts. People are asking repeat questions and doing a lot of other things that could be solved by just reading the posts.

*Generally anything that is bolded is important, so if you are just skimming, make sure to read anything that is in bold.
*Milestone posts (100, 200, 300...) must be made into a big deal by the person who claims that coveted post. This can include, but is not limited to, dance parties, playing in the M&M fountain, and Danny kisses all around.
* Club titles for a new thread are suggested and voted on by all members. Once a club reaches 500 posts, nominations are open for the next thread. Voting will last several days, to give everyone a chance to vote. If you are selected to open the next thread, you must give everyone at least one day's notice before opening the club. Once the new club thread is open, the old one is closed, so PLEASE do not post in an old thread once the new one is open!


Edited on 11/29/2011 12:58pm
Edited 4 total times.