Given how the comics went down--and given that the show was essentially a kidified version of them--I prefer Robin/Starfire, Beast Boy/Raven (Terra is literally dead following her ruse in the comic continuity and is figuratively as such in the cartoon as well), Jericho/Kole, and for Cyborg/Sarah Simms. For safety's sake, only the BB/Rae scans shall be posted...
The Death of Beast Boy: Yes, in an earlier incarnation, Slade had fatally wounded the shapeshifter, forcing a hurt Raven to use all her magic to revive him. In response to her behavior, Beast Boy made the following wisecrack: "You make not be a candy with a hole in the center, but Raven, you're a lifesaver." Not mere issues after in issue #52 or #53 of the very comic line that inspired the animated series, Beast Boy told Raven, "Your physic whammo is better'n kisses, Raven, I think I'm in love." And since then, the possibility of Beast Boy/Raven as an item has been toyed with, until its official coming out as a couple when Geoff Johns took the helm of the comics in 2003, just prior to the show's debut on television.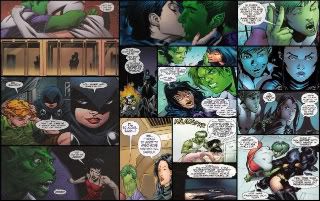 Various BB/Rae moments--including the infamous kiss from one of the graphic novels (originally in issue #30 of the Life or Death story arc tied to Raven's third reincarnation)--from relatively current comic scans. One of those scans not present is a scene similar to a highly popular franchise out right now, whereby Raven admits to it being a turn-on when Beast Boy watches her sleep.
Talk about Beauty and The Beast, especially since in the comic source, it was a kiss from Raven's evil dommatrix side that gave Beast Boy his primatively feral form, as opposed to the chemical bath he received in the cartoon. Still, even the cartoon episode made allusions to the classic fairy tale, given The Beast's over-protective nature regarding its possible mate, given the male-chavanist attitude of the "villain-of-the-day" Adonis, given Raven's confirmation of the changeling being a gallant hero during the time she was comatose, and even given the two Titans' awkward moment following Adonis' beat-down and Beast Boy's eventual transformation back into himself after the whole ordeal was supposedly considered over with.
Just as Beast Boy would call Raven by the pet name 'Rae', Raven's own affectionate side hath christined the changeling with her own romantic intanglement through the "You're such a flirt, 'Beastie Boo'" line. The other two moments presented are yet more of the way BB/Rae is alluded to, even in the comics based off of the show itself.
Edited on 08/19/2010 5:42pm
Edited 4 total times.