You guys know the drill. If you've got any thoughts, likes, dislikes, favorite moments, or would like to just plain ol' discuss and debate "
El Viaje Misterioso de Nuestro Jomer (The Mysterious Voyage of Homer)
", here is where you do it.
This thread will be pinned for about a week and will be added to the
Episode Discussion Thread Index
.
Episode Description
After Homer downs several Guatemalan insanity peppers at the annual chili cook off, his consciousness goes on a mystical journey, complete with a talking coyote spirit guide, to discover his soul mate.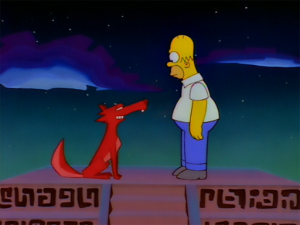 Edited on 06/25/2009 1:28pm
Edited 2 total times.